It seems like Pepe Reina's time as a player of Napoli is reaching it's end and it's actually not due to the player himself, the main reason of why the Spanish shot-stopped is being rumored of making his way out of the Sao Paolo is because of a few comments from the president of Napoli, Aurelio De Laurentiis.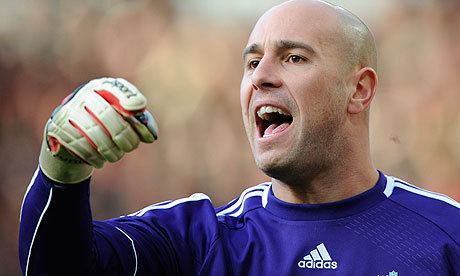 Italian media outlets are claiming that during an end of a season dinner, Aurelio De Laurentiis said a few things as a joke involving Pepe Reina's wife which has caused a huge aftermath surrounding the future of the 31 year old shot-stopper.
"has to to give up some outside distractions to become stronger." This was the comment released by Napoli's president during the end of the season dinner which had the entire squad of the Italian club as well as many staff members.
This comment however, was directly released at Pepe Reina as it's believed that Aurelio De Laurentiis stood and looked at the former Liverpool player before saying those comments.
Following that statement, the wife of Pepe Reina left the dinner table and the player himself also stood up and made his way out.
Pepe Reina even released a tweet on his social media account which said: "The true elegance is to remain indifferent to people who are worth little"
The 2017 summer transfer window for the Serie A and for the English Premier League will be shutting down on August 31 and rumors are suggesting that Manchester City are seriously interested in signing Pepe Reina and even if City are not able to secure his services, considering the actions of Aurelio De Laurentiis, Pepe Reina simply does not want to perform with the Italian club and will just join any other club.
Newcastle United is another Premier League club which is rumored to be interested in securing the services of the Spanish goal-keeper during the current summer transfer window.